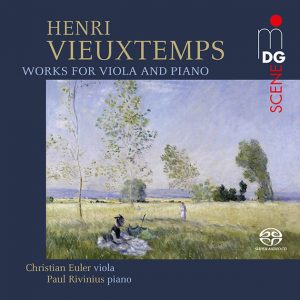 Sonata for viola and piano B flat major op. 36
1 I Maestoso (Allegro)
2 II Barcarolla (Andante con moto)
3 III Finale scherzando (Allegretto)
Capriccio for viola solo C minor op. posth.
4 I Lento, con molta espressione
Unfinished Sonata for viola and piano B flat major op. posth.
5 I Allegro con fuoco
6 II Scherzo. Grazioso
Elegy for viola and piano F minor op. 30
7 I Andante con moto
Etude for viola and piano
8 I Allegro
Christian Euler, viola
Paul Rivinius, piano
MDG SACD 903 2063-6, 1 Hybrid-SACD
Excerpt from the 1st movement, "Maestoso", of the Sonata for Viola and Pianoforte Op. 36 by HENRI VIEUXTEMPS
Information
On the violin Henri Vieuxtemps made his quick way from one success to the next, and Robert Schumann even compared him to Niccolò Paganini. However, the viola was his secret love, and he created some of his most beautiful compositions for it. Christian Euler and Paul Rivinius have set standards with their recordings
of English viola music and works by Paul Hindemith, and their Vieuxtemps interpretations are guaranteed to delight avid viola fans – and not only them!
What the critics say
Excerpt from the Etude for Viola and Pianoforte by HENRI VIEUXTEMPS
»Vieuxtemps was an acclaimed violin virtuoso, who also played the viola and wrote a handful marvellous chamber pieces for this instrument. Christian Euler and Paul Rivinius deliver excellent performances, expressive and pleasingly lyrical.« pizzicato, 4. May 2018
»Very fine indeed« MusicWeb, Juli 2018
»L'interprétation est impeccable de sobriété, la sonorité parfaitement contrôlée et sans complaisance, car jamais Vieuxtemps ne donne dans la complaisance et conserve tourjours un style rigoreux. Accompagnement très souple et équilibré du pianiste Paul Rivinius.«
CLASSICA (F), Juillet/Août 2018