Christian Euler is a violist out of conviction and an enthusiastic chamber music player. He performed under the greatest conductors with the New York Philharmonic and the Philadelphia Orchestra before he was appointed Professor at the University of Music and the Performing Arts in Graz in 1991.
Christian Euler and Paul Rivinius have set standards with their recordings of English viola music and works by Paul Hindemith, and their Vieuxtemps interpretations are guaranteed to delight avid viola fans – and not only them!
The cantabile playing style so typical of the Franco-Belgian violin school and such an important influence on Vieuxtemps and then on his pupil Ysayë is especially effective when executed on the viola. When Christian Euler plays the beginning of the Sonata op. 36 and it's long melody lines and the standout Barcarole not only so very airily and freely but also with sonorous intensity, the result is pure listening joy.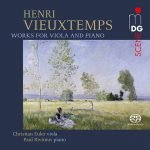 Recent CD-release: Henri Vieuxtemps
Excerpt from the Capriccio for Viola solo op. posth. by Henri Vieuxtemps (1820-1881)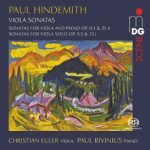 In the September/October 2016 issue of FANFARE James H. North wrote »Christian Euler and Paul Rivinius capture this apparent dichotomy ideally. They are aided in this by their instruments: Euler's (uncredited) viola is marvelously rich and colorful, from the bright sheen of a violin to the emotional density of a cello; Rivinius's century-old Steinway D is clean and clear, with none of the heavy reverb heard in the bass of modern Steinways. Euler's playing is smooth as silk, with winning legato.«
Excerpt from the 4rd movement, "Rasendes Zeitmaß – Wild. Tonschönheit ist Nebensache", of the Sonata for Viola solo Op. 25 No. 1