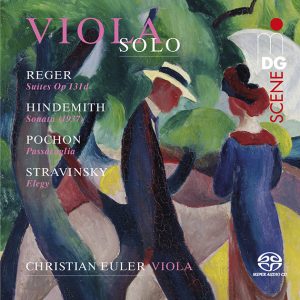 Max Reger, Suite Op. 131d/3, Allegro vivace
Max Reger (1873-1916)
Suites for solo viola, Op. 131d, 1
1 I Molto ostenuto
2 II Vivace
3 III Andante sostenuto
4 IV Molto vivace
Paul Hindemith (1895-1963)
Sonata for solo viola (1937)
5 I Lebhafte Halbe
6 II Langsame Viertel – Lebhaft
7 III Mäßig schnelle Viertel
Max Reger (1873-1916)
Suites for solo viola, Op. 131d, 2
8 I Con moto
9 II Andante
10 III Allegretto
11 IV Vivace
Alfred Pochon (1878-1959)
Passacaglia pour alto seul
12 Sostenuto ed espressivo
Max Reger (1873-1916)
Suites for solo viola, Op. 131d, 3
13 I Moderato
14 II Vivace
15 III Adagio
16 IV Allegro vivace
Igor Stravinsky (1882-1971)
Élégie for solo viola
17 Lento
Christian Euler, Viola
MDG SACD 903 2160-6, 1 Hybrid-SACD
Information
Christian Euler dares to do what not many dare to do: he performs an entire hour of music for viola solo, without accompaniment. Euler's full, warm, and highly nuanced tone echoes through this demanding, yet entertaining program presenting some classics as well as several rarities.
Alfred Pochon's Passacaglia was composed as a competition piece. Bach's great Chaconne for violin solo is recognizably its model, even in detail, and yet Pochon, who celebrated considerable
successes as a chamber musician during the first decades of the twentieth century, finds a genuinely authentic tone for the viola. Euler's intense and rich treatment of tone transforms this work, which
Pochon must have composed merely on the side, into a very special, opulent sound experience.
Reger too – how could it be otherwise? – followed Bach's example and wrote a special recommendation for the viola with a total of three Solo Suites for this instrument. Christian Euler of
course masters the immense technical demands with bravura. Moreover, even though the texture repeatedly is bold harmonically, his musical realization of it is very discerning, very much to the
advantage of these underestimated gems.
Excerpt from Igor Strawinskys Élégie for viola alone, Lento
What the critics say
Nominated for the Preis der deutschen Schallplattenkritik 3/2020
"They demand a viola player with considerable skills. Intonation must be perfect. Euler doesn't just play the viola well; he plays with his viola, using all the possibilities the instrument offers to bring out the beauty of the music. Easily shifting from warm lows to the thrilling colours of the upper range palette, he ably draws out sounds few people may have known possible from 'the instrument in the middle'.
… What Ysaÿe was for the violin, Hindemith was, as far as I'm concerned, for the viola: A test for any violist with high aspirations. From the previous paragraph, it may be clear that Christian Euler has, in my view, passed the test with flying colours. …
I think that this disc, recorded with MDG's perfect sound philosophy, should be high on anyone's shopping list. For viola players at any rate, but surely also for all those wanting to know more about this noble instrument." Adrian Quanjer and HRAudio.net, May 1rst, 2020
"Christian Euler lends each and every piece its own distinctive, authentic voice. He can magnify the Hindemith idiosyncrasies just as well as he reinforces Reger's respect for the past." Classical Music Sentinel, Jean-Yves Duperron, May 2020